A beautiful example of putting steel to best use
---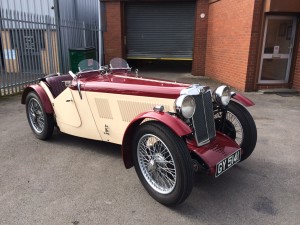 At West Yorkshire Steel we are not only experts and enthusiastic about the product we make, we think it's a beautiful substance to work with too. There are many facets to steel, from the amazing technical aspects which define the individual grades to the look and feel of the final product. We know that this kind of reverence for a material is never going to be shared by all, but as long as we remain passionate about our product, we don't mind if some don't buy in to our idea of beauty.
Occasionally, however, there comes a point where we think that the beauty of it is undeniable and this was (quite literally) brought home to us by Bob Walker, from Aldborough Forge recently. He came over to visit us in his MG F Type Magna, built in 1932.
Bob explained that this amazing vehicle has quite a number of pieces of our steel contained within and he was visiting us for more parts to keep it on the road. The car itself was one of only 8,000 produced, although an astounding 3,500 of these are still believed to be in existence and in working order, thanks to leagues of devoted owners and restorers.
Bob's car came to him in 1961 and with his careful work and attention, it has been in full working order ever since. Bob bought some 316 and 303 stainless steel to produce parts, such as nuts and bolts, as well as another section of stainless for the gear lever.
We're very proud to be involved in keeping such an aesthetically stunning piece of machinery on the road. Despite steel having connotations of mass industry and large engineering, it's also responsible for much more emotive and passionate projects.
Although the steel used in bridges and buildings makes them beautiful in their own right, using them in a living, breathing and dynamic vehicle gives it a vitality that only comes with an item like the MG. Although we know that steel can be used to make stunning items that stir passions, it's only when we see them in the flesh that we know we're right in our reverence to how amazing steel is.
With great thanks to Bob for allowing us to write about the car to excellently prove our point!