---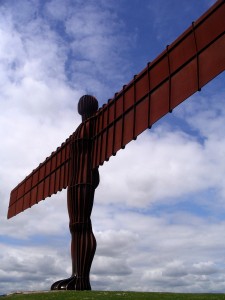 We have many customers and friends in the North East, to where I had an enjoyable visit last week. Driving up the A1 past the Angel of the North I soon began to understand Newcastle's long and proud heritage of engineering and steel. The massive statue designed by Anthony Gormley is produced from Corten steel. This is designed to rust and leave an impenetrable barrier on the surface so that no more corrosion can take place. It was erected in 1998. Despite initial disapproval of the look of the Angel, it's now a staple of the North East landscape.
That morning I found myself by the quayside, there was a quaint corner café selling breakfast for £2.95 and being a Yorkshire man I couldn't resist the price. The café was under the arches of the Tyne bridge. I looked out of the window drinking my tea and saw the thousands of rivets that hold this incredible structure together. The bridge famous all over the world is even featured on labels for Newcastle Brown Ale. Upstream is the High Level bridge and downstream the Millennium bridge each feats of engineering in their own right, although years in time apart.
I had to drive to North Shields via Wallsend along the North bank of the Tyne. Everywhere there are engineering companies and ship building yards. Also scrap yards collecting old unwanted iron and steel for recycling. We actually are a green industry despite the huge amount of energy required to manufacture steel. On my way to the coast there was a huge oil rig on its side ready to be floated down the Tyne and out to the North Sea. Its massive legs stood out against the blue sky.
On leaving North Shields as a detour I took the short journey up to Whitley Bay, Newcastle's beach resort. On the windy seafront there are old Victorian shelters the roof supports are ornate cast iron scrolls that must be over 100 years old. They and the steel railings on the front are still resisting the elements of the North Sea.
The drive through the region revealed that not only has steel, due to its abundance, been used to form, shape and beautify the landscape, but that there continues to be a great centre of industry within the North East, visible for its part in history and the ongoing reshaping of this section of Britain.