Taking a Leaf out of Corvette's Engineering Book
---
Without overloading on nostalgia, it seems many things that were once considered unremarkable are today quite unacceptable, most notably, smoking in pubs. Although the law is only 9 years old, smoke-filled pubs seem completely alien. Another rapid trend has been the decreasing popularity of The Petrolhead (or Gearhead for Americans).
These days, car fans are perceived one of two ways; young scallywags with enormous subwoofers or middle-aged bores who match their leatherette driving gloves with their anorak. The problem for us at West Yorkshire Steel is that we can't help but be car fans! Working in steel gives an amazing view of the metal as it goes together as a feat of modern engineering, manufacturing and science.
Now while modern cars are full of terms like 'Mech-Limited Slip Diff' and 'Push-Rod Actuated Suspension', some trends from the 70's haven't gone the way of The Petrolhead or smoky boozer.
One such example is leaf springs. For those unsure, leaf springs are a form of suspension; the basic principle is to attach pieces of flat steel bar together in an upturned banana shape, which is thicker in the middle where it's attached to the wheel axle. The weight of the body spreads across the two ends and when the car hits a bump, the leaf springs flex, disperse the energy of the shock and gently return to the original position.
Before modern shock absorbers, leaf springs were standard, but it's a bit misleading to say they're a 70's trend – they actually date back to Roman times and were used on chariots! Their usage continued for so long because they're simple, fabrication is cheap and they're a very effective form of suspension.
Layering the steel makes the structure very strong, so leaf springs can be engineered to take incredible weight. Because the tight-knit steel bars spread the vehicle weight across the whole spring (as opposed to a small area with modern shock absorbers) heavy industry still chooses the Roman technology, as it's not only cheaper but more reliable with heavy vertical loads.
Modern cars fell out of love with leaf springs as they were difficult to manipulate. Cars today serve a wide range of purposes and adjustable suspension and finely tuned mechanics are not only more desirable, but thanks to technological advancements, more affordable. Leaf springs also only really deal with vertical loads; the tightly fastened steel bars can cause greater amounts of wear and tear when subjected to increased lateral movement.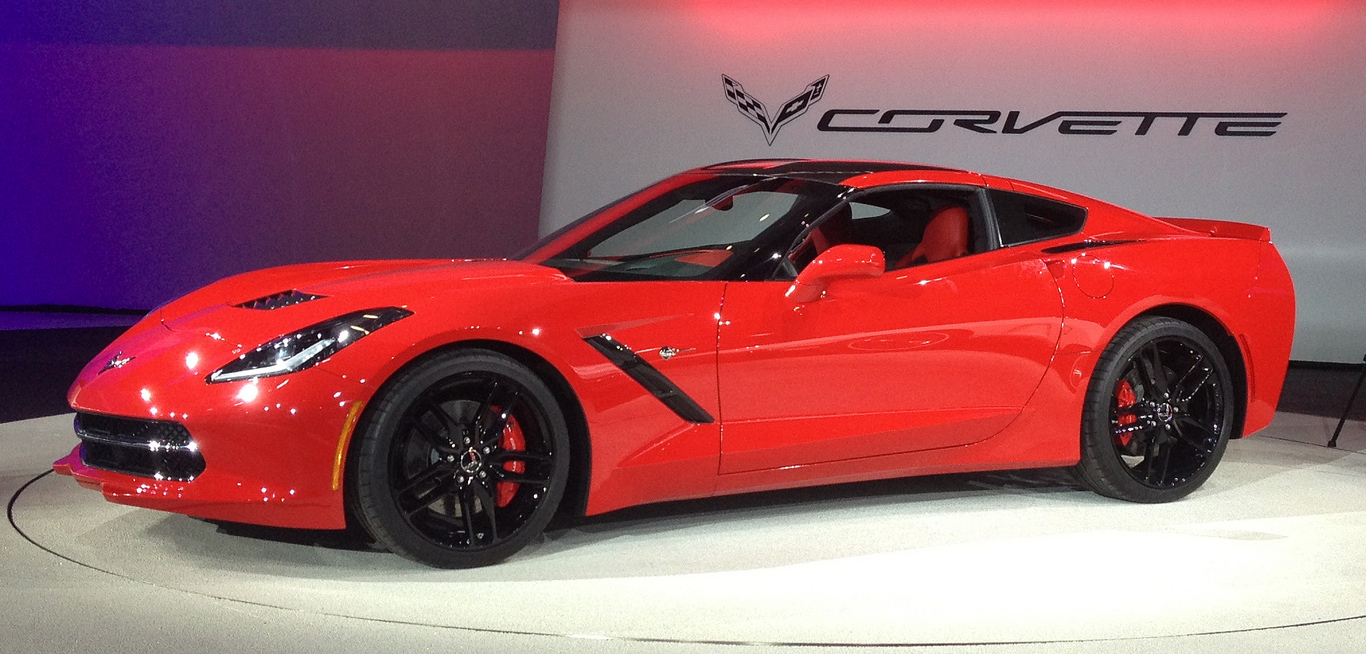 What's really interesting is that Corvette have stuck to leaf springs, through thick and thin. US muscle cars get a rough ride in Europe for being angry point-and-squirt machines that get all confused when it comes to corners, but Corvette has stuck true to the principles of the classic muscle car – big engine, torque and simple, functional engineering.
Of course, part of our love for this particular area of the Corvette comes from our respect for the material – the EN45 Spring Steel which is the most common steel to be used for leaf springs. As a silicon manganese steel, it's more than up to the job of supporting whatever vehicle you choose to use, whether it's a big yellow digger or a loud, shouty 'Vette – it goes to show that some things never go out of style.
Photo Credit: By sarahlarson (Sarah Larson) at Flickr [CC BY 2.5], via Wikimedia Commons