West Yorkshire Steel: 40 Years Old & Still Going Strong
---
This month at West Yorkshire Steel we are celebrating our 40th anniversary. We are so thankful to everyone who has ever been a part of our journey. To customers, staff and partners, it has been an amazing 4 decades.
Where it all began?
Our founder, Brian Ellis, spent his working life in steel. Qualifying as a metallurgist at Sheffield Technical College, he worked for Kayser Ellison, Climax Molybdenum and Uddeholm.
Recognising that UK industry was a big user of special steel grades, and that service and knowledge of steel from suppliers was not forthcoming, Brian started West Yorkshire Steel. Setting up the business from the family home garage, some stock was laid down with bandsaw cutting facilities.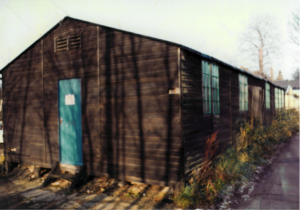 York Road Nissen hut premises (1976)
To begin with WYS mainly suppled steel grades to the large industrial areas of Leeds, to customers including Doncaster Monk Bridge (industrial turbines), Greenbat (locomotives), Plastona John Waddington (plastics toolmakers) and Charles F Thackray (medical instruments).
Our early customers were very pleased with the products and service, combined with expert metallurgical knowledge and so the business grew at a rapid pace. Commercial premises were therefore found (interestingly in a WWII Nissen hut) and in 1980 we moved to our current premises which were built purposefully to suit our steel stockholding requirements.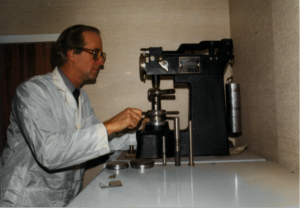 Brian Ellis testing tool steel on Rockwell hardness tester (1982)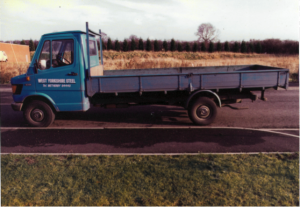 West Yorkshire Steel delivery lorry (1983)
Why the name 'West Yorkshire Steel'?
West Yorkshire came into existence as a metropolitan county in 1974 – previously being known as West Riding of Yorkshire. At the time this was a very hot topic and using the name West Yorkshire Steel felt very fresh and innovative.
With Brian's sons, Duncan and Rob involved from a very early age the expertise of steel grades and the steel industry has been passed on and continues to help the business service customers, whatever their needs. Certainly as requirements change and technology helps develop new techniques for delivering the perfect result, learning about steel grades and their applications has been a fascinating and productive process in our many years of service. Taking control of the business in 1995 when Brian retired, Duncan and Rob have continued to grow the business. It has long been respected as one of the leading UK special steel suppliers.
WYS prides itself on steel expertise and customer service, in essence our USPs are…
WYS has built a sales team with consummate professionalism and industry expertise. We know steel and ensure a reliable and friendly service is provided to all customers. We take huge pride in delivering on every customers faultless expectations.
To supply quality steel requires a quality management system, this was implemented many years back working forward to today's ISO 9001. WYS is very proud of this year's ISO 9001 audit, getting zero non-conformities for the first time. Considering that part of our ISO procedural aims are to monitor customer satisfaction and ensure the competence of our customer support resources, we can be confident of our entire service from start to finish.
The service WYS provides is second to none across the UK – offering a reliable nationwide delivery, on time and to expectation, every time. Contracts are setup with couriers UPS and Pallex ensuring dependable UK deliveries at reasonable costs.
WYS forerunners of the IT revolution in the steel industry
In 1995 WYS became an integral supplier to Nestle UK in York. The Internet and email were in their infancy and it was agreed that these tools would be a perfect way to enhance the supplier/customer relationship between the two companies.
Fascinating and fun times were had. https://www.westyorkssteel.com/ was built and developed by Rob, seeing a wonderful way to market WYS products and services, and provide a platform where quality steel grade information could be presented at customers fingertips. For example, online steel data sheets provided customers with expert in-depth analysis of steel grades and further information has always been readily available via email and monthly newsletters.
Refreshing the website over the years helps keep it informative, with easy navigation to meet new surface platforms, customer research and viewing habits, and the change in devices used to find information on the web.
Previous incarnations have looked like this…
https://web.archive.org/web/20000505134103/http:/www.westyorkssteel.com/
https://web.archive.org/web/20070711164221/https://www.westyorkssteel.com/
Keep an eye out for the new WYS site to be published in 2016.
The future for WYS
Thank you for your business and support during the last 40 years. We have grown substantially over the years, riding the waves through economic good times and bad. 2015 has been a challenging year for the steel industry in the UK. We remain robust and buoyant throughout these difficult times, ensuring we maintain a strong supply chain through from the mill producer to the end user. We will continue to keep you informed (through our blog posts and newsletters) on any future developments at West Yorkshire Steel and look forward to a continued healthy business relationship over the next 40 years (and more).
And finally…did you know?
Our business dates back even further than 1975. Way back in fact to 1858 when the Ellis family were owners of Brincliffe Quarry, Psalter Lane, Sheffield.
At the time, though not in the steel industry specifically, the association was there as the quarry was used to mine 'whitening stones'. This stone was an excellent grindstone consisting of hard quartz grains that would abrade steel blades held against it. It was also soft enough to be worn away itself in order to bring fresh grains to the surface. Brincliffe Edge rock had an excellent consistency of about 55% quartz and was highly regarded in the prospering cutlery industry in Sheffield at the time.
With their amazing knowledge of stone masonry, some of our family members moved to New York and helped with the construction of the Brooklyn Bridge.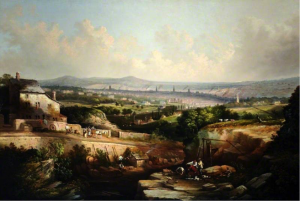 Brincliffe Quarry (c1858)
'A View of Sheffield from Psalter Lane' by Joseph McIntyre