Mr Butcher, the… Master Cutler?
---
Yorkshire has always had a huge number of names that are intrinsically linked with the pioneering spirit and world-class metalwork. It's hard to imagine how much history there is in this small area; places like Sheffield were literally world famous for cutlery, machinery and tool steels and it's probably not too much of a stretch to say that Sheffield was to cutlery and tool steel what Silicon Valley in California is to tech innovation today.
Oddly, it's actually the United States that prompted much of the demand and success for Sheffield steel, with a huge requirement of everything from domestic cutlery, armament steels and machinery materials. A few people were in the perfect place at the perfect time, with both the products as well as the knowledge and expertise to capitalise on the opportunity. As well as George Wolstenholm, William Butcher was another to make a success of steel and bring further fortune to Yorkshire.
William – and his brother Samuel – actually followed their father James' success in steel and became his apprentices. James passed away when William was approximately 15 years old, so they were forced to transfer their apprenticeships to another cutler. It seemed almost inevitable that both brothers would go into partnership, eventually purchasing premises and within three years they were producing not only their own steel, but also a range of tools.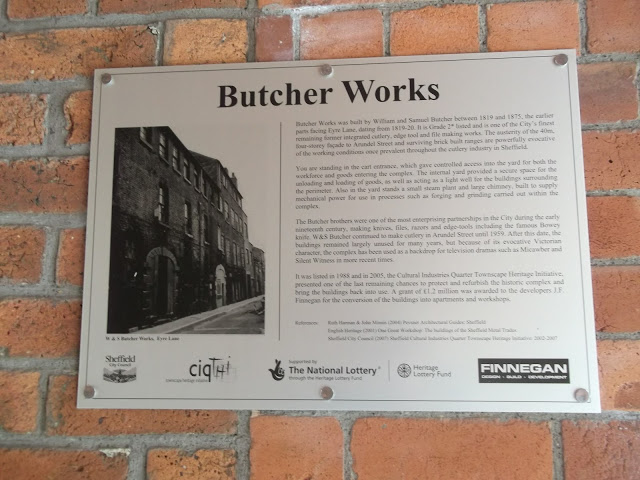 It was in the 1830's that things really began to accelerate, thanks to the spirit of the Wild West. With William acting as the sole agent for America via a New York office, he made a great success of the need for various tools. As explorers headed across the country, they were using the natural resources to build, hunt and create settlements, in turn creating demand for hoes, saws and hammers, meaning huge numbers of files and woodworking planes were sold. This pioneer spirit needed good quality tools, for which "W. and S. Butcher's Superior Refined Cast Steel" was perfect.
After a period of expansion, by the 1850's they also supplied the elite Bowie knife, as created by Wolstenholm and the company fortunes only increased, but the cost eventually came in other areas. Butcher, trying to keep up with demand, tried to automate processes with a machine to take care of file-cutting, which was quickly abandoned when it became apparent that the craftsman created process was more reliable and higher quality. Unfortunately, violent protests occurred at the attempt to automate and remove the workmen and they even continued after the plans were abandoned, culminating in Butcher's home being bombed via his bedroom.
William took the lead of the success in the USA and took a team of Sheffield steel men to America, with the aim of opening a steelworks that produced the same high quality steel as available in Sheffield, using the same processes. Despite creating the first commercially available US produced steel castings, the enterprise was unsuccessful because of the open-hearth process being favoured by Americans.
Despite this, his crucible techniques continued via a different premises and William returned back to England, continuing to run the very successful works in Sheffield. While there's obviously something to be said for the demand created by the American market in the success of the Butcher family business, without the Butcher brothers' firm hand and guiding, as well as having the expertise to open up opportunities in the USA, it could well have been that both the business and the rich world of Sheffield steel may have felt a little less deep.