---
Tool steel grades are supplied in a wide variety which commonly belong to a specific group or type providing various characteristics. Most tool steel properties require grades that suit heat treatment to achieve a high hardness. Tool steels are frequently used for the shaping of other materials.  Popular types of tool steel include cold work, hot work, plastic mould and shock resisting which are used for a wide range of applications. The choice of steel for a particular application depends on which tool steel properties suit best, such as the required hardness, shock resistance, strength and toughness. Other considerations include the working temperature, abrasion resistance and working environment.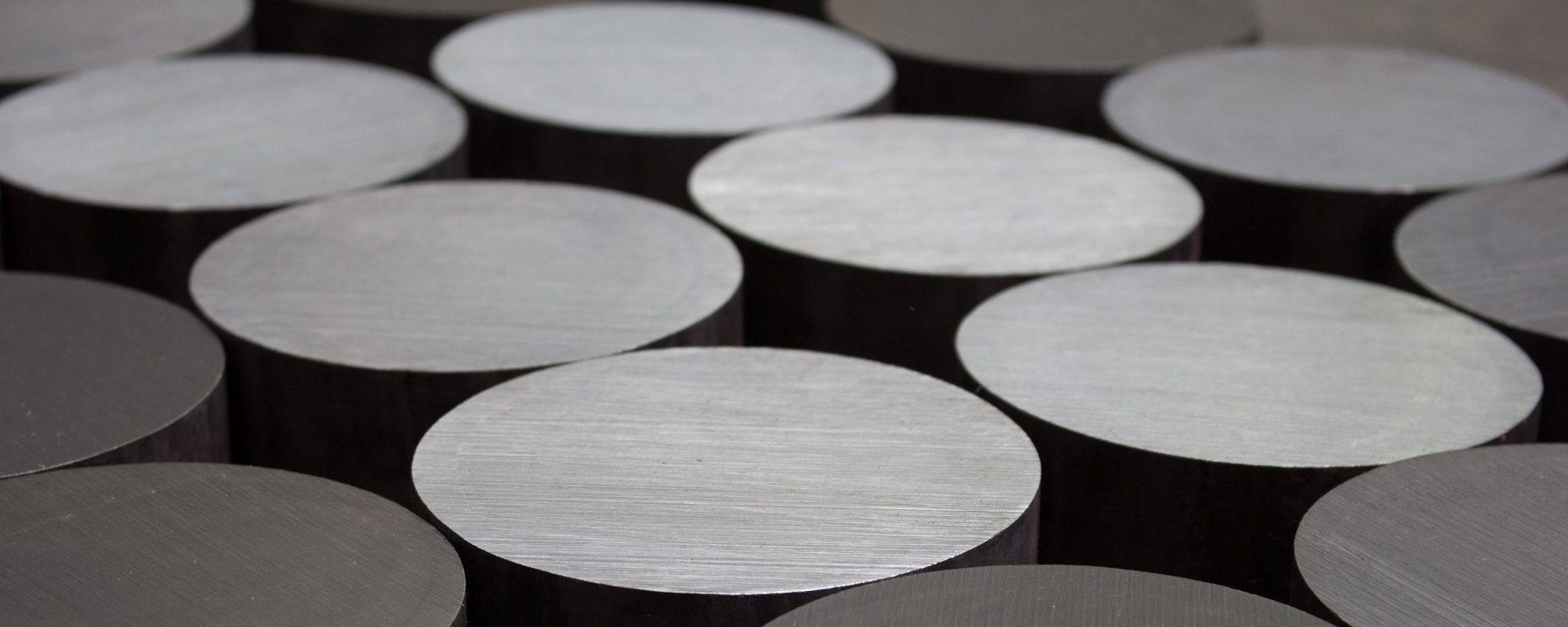 Cold Work
Cold work tool steel grades are through-hardening high carbon steels which heat treat to a high hardness. Cold work grades of tool steel combine wear and toughness characteristics which suit relatively heavy forming and cutting operations at room temperature. With a balanced alloy content cold work tool steel specifications offer high wear resistance, good toughness, excellent compressive and impact strength and high dimensional stability in heat treatment. These grades are ideally suited for the manufacture of tools working in a surface temperature of not more than 200°C.  Popular cold work tool steel grades include British Standards 01, D2, D3, D6 & A2, Werkstoff grades 1.2510, 1.2379, 1.2080, 1.2436 & 1.2363.
Hot Work
Hot work tool steel grades are relatively low in carbon content with additional alloys. Hot work tool steel properties offer resistance to erosion, high temperature corrosion and oxidation with dimensional stability during heat treatment. Hot work specifications provide strength and hardness during prolonged exposure to elevated temperatures. These grades offer good machinability in the annealed supply condition. Popular hot work tool steel grades include British Standards H13, H11, H21, Werkstoff grades 1.2344, 1.2343 & 1.2581.
Plastic Mould
Plastic mould tool steel grades offer high wear resistance, good polishability and etching ability with adequate corrosion resistance. The variety of grades offer differing properties such as pre-hardened tool steels which can also be flame hardened or nitride. Through-hardening types of mould steels offer good abrasion resistance for long production runs. Martensitic stainless mould steels offer good corrosion resistant properties. Popular plastic mould tool steels include British Standards, P20, EN30B & 420, Werkstoff grades 1.2311, 1.2312, 1.2767 & 1.2083.
Shock Resistant
Shock resisting tool steel offers good resistance to shock at low or high temperatures. With medium carbon content it can be heat treated to achieve high impact toughness but with a low abrasion resistance. Shock resistant tool steel withstands rapid heating and cooling and is not susceptible to heat checking. The common British Standard grade is S1, Werkstoff 1.2550.
Heat Treatment
When heat treating any tool steel grades consideration should be given to procedures such as hardening temperatures, rate of heating, cooling and soaking times. These will vary due to factors such as the shape and size of each component. Other hardening considerations include the type of furnace, quenching medium and work piece transfer facilities. Heat treatment providers can offer full guidance on heat treatment of tool steels.
More information on buying tool steel and tool steel properties available at https://www.westyorkssteel.com/tool-steel/